Anyone who has had the opportunity to eat out in Dublin pubs over the last couple of years will see just how much the quality of food on offer has grown. There are now dishes available in Dublin pubs which are as delicious and as beautifully prepared as any meal on offer in the city. Dublin p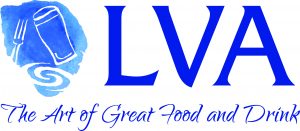 ubs are using the highest quality ingredients to produce vibrant dishes to reflect the palate of modern Dublin.
In this series of recipes in partnership with TheTaste.ie, the Licensed Vintners Association is sharing a small selection of these amazing meals. A taster of the great food you can find in pubs throughout Dublin. #DubPubDishes
About the dish
This Braised Lamb Shank with their thyme and red wine gravy is one of Johnnie Fox's most popular dishes. They sell a whopping 9.5 tonnes of lamb shank every year. The chefs in Johnnie Fox's labour over the dish allowing it to cook over a 24 hour period in a slow low oven, giving it the famous fall off the bone and melf in the mouth sensation. Johnnie Fox's even claim the dish served in their pub can be eaten with a spoon!
Serving Size: 4
Ingredients
4 x 400g fore quarter lamb shanks.
500g carrots, peeled and cubed.
500g turnip, peeled and cubed.
2 medium sized onions, peeled and quartered.
10 sprigs of fresh thyme.
10 sprigs of fresh rosemary.
6 cloves of garlic, whole and peeled.
500ml red wine.
50g plain flour.
2 x 50g portions of butter.
800g rooster potatoes, peeled and halved.
Cream to taste
Half a bunch of spring onion, sliced
Salt and pepper to taste.
Water.
Cooking Method
Lamb Shank
Place lamb shanks in an oven proof dish, add half of the vegetables and herbs and all the wine. Top up with water to almost cover the shanks. Gently season with salt and pepper.
Put the lid on. If you don't have a lid, cover the tray first with cling film then with tin foil, seal well.
Place the tray in the middle of a preheated oven at 180ᵒC and braise for 2 hours.
At the end of 2 hours, sieve all the cooking liquid into the saucepan with the brown roux.
Brown Roux
As the shanks are cooking prepare the brown roux.
Melt the butter in a pan on a medium heat until it foams out.
Add flour (you can use gluten free option for the same amount).
Cook flour stirring constantly until it takes a dark golden-brown colour.
Whisk in the cooking liquid from the shanks.
Adjust seasoning.
Low Cook
Combine hot sauce with hot shanks in the same tray.
Add remaining vegetables and herbs.
Cover and cook in the oven at 130ᵒC for 2 hours.
Mashed Potato
Potato will take about half an hour steamed or about 20 minutes boiled.
Time it to match the shanks' cooking time.
Mash, butter, cream and season.
Stir in spring onion.
Assemble the dish
In a wide and deep bowl, make a bed of mash potato. Lean lamb shank against the mash, the bone showing upright. Spoon in gravy and vegetables. Garnish with thyme and rosemary.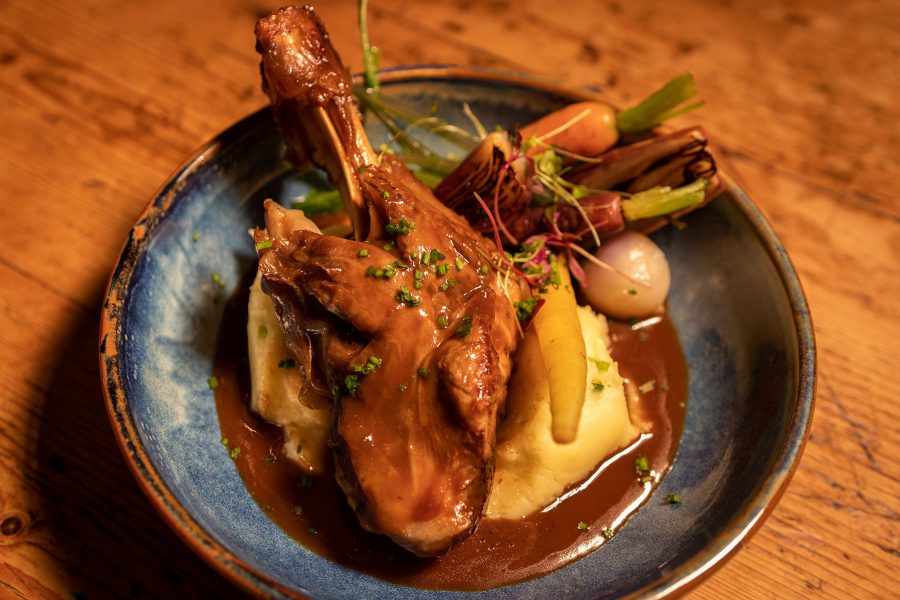 About Johnnie Fox's
Established in 1798, Johnnie Fox's is one of Ireland's oldest and one of the most famous traditional Irish pubs in Ireland. It is also renowned for being the 'highest' pub in Ireland. Live music and entertainment has also always been a trademark of Johnnie Fox's and can be enjoyed seven nights a week.
Their restaurant and award winning kitchen source local ingredients from high quality 'farm to fork' suppliers. Their menu offers classic Irish dishes along with impressive seafood offerings and modern favourites.