The quality of food ava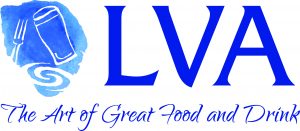 ilable in Dublin pubs has increased dramatically over recent years. Some of the dishes provided in Dublin pubs are now amongst the highest calibre of food in the city. Through our partnership with TheTaste.ie, the Licensed Vintners Association (LVA) is sharing some of these recipes, highlighting a selection of the top quality dishes you can find in pubs throughout the city and county.  #DubPubDishes
About the dish:
This dish is a modern take on Irish comforting home cooking, involving meat, potatoes and vegetables. Classic flavours combined with tastes of umami remind guests of childhood dishes, basically a taste of home, away from home. Two cuts of beef are used, for different flavours and textures, further enhanced by the inclusion of O'Hara's Red Ale in the cooking process, a style and technique we are very proud and fond of, highlighting our very own style of using beer within our recipes. Enjoy with an O'Hara's Red Ale or Leann Follain Stout.
Ingredients
Beef Cheek
2 beef daubs (cheeks)
1 onion roughly chopped
2 carrots roughly chopped
2 sticks celery roughly chopped
2 cloves of garlic lightly crushed
1 sprig thyme
1 sprig rosemary
1 bay leaf
1 star anise
6 peppercorns
1 litre of O'Hara's Red Ale
Beef Rump
4 pieces of beef rump cut into even sized pieces approx. 120g each
25ml rape seed oil
10g sea salt and black pepper
Smoked Potato Puree
700g peeled rooster potatoes (200g for smoking)
250g butter
300ml cream
100ml milk
50g wood chips (we use a mix of apple wood and oak)
Ground white pepper to taste
Salt to taste
Sautéed Wild Mushrooms + Baby Spinach
200g washed mixed wild mushrooms
100g washed baby spinach
50g butter
15ml olive oil
Salt and pepper
Cooking Method
 Beef Cheek
Marinate all the ingredients combined together overnight
Once marinated drain off the liquid and set aside, remove the beef from the vegetables
Brown the cheeks in a thick bottomed saucepan, once browned add the vegetables and cook until softened stirring occasionally
Add the set aside beer and bring to the boil. Once up to temperature double wrap the top with tin foil tightly or place a tight-fitting lid on top and cook @ 90c for 14 hours checking every two hours until soft and tender.
Once cooked allow to cool in the liquid
Once cooled remove from the liquid and set aside, place the liquid and vegetables back on to boil and reduce by 80% or until the liquid begins to thicken. Once thicken strain out the vegetables and discard
For serving
Cut each beef cheek in two and heat in the reduced liquid until even hot all the way through
Season with high quality sea salt and serve using the liquid as your sauce
Beef Rump
Heat a frying pan to a medium to high heat and add the oil
Season the meat on all sides and place in the frying pan
Brown the meat evenly on all sides for between 45 seconds and a minute, remove from the heat and allow to rest for 10 mins to ensure even cooking
Once rested slice and serve
Smoked Potato Puree
Place your wood chips in a Heavy cast iron pan, cover with a mesh metal stand with 200g of the potatoes on top
Seal the pan with two layers of tin foil ensuring the top is pinched up like a tent to allow the smoke to circulate
Heat over a low to medium heat for 25 mins to a half hour until the potatoes turn a light brown
Add the smoked potatoes back in to the rest of the potatoes and bring to the boil until cooked through
While boiling the potatoes combine the butter cream and milk and heat in a sauce pan until the butter is melted and it has reached a light simmer
Once cooked drain the potatoes and put it in to a food processor on a low speed gradually pour in the cream/butter mixture until the puree has reached the right consistency
Season to taste and serve
Sautéed Wild Mushrooms + Baby Spinach
Heat a pan on a medium to high heat, once hot add in the oil followed by the mushrooms. Cook the mushrooms constantly moving them for two mins until cooked
Once the mushrooms are cooked add the butter and the baby spinach and cook until the spinach is softened
Season and serve
The dish is served with crispy onions and some horseradish sauce.
Duo of Irish Beef from Urban Brewing by Chef Dan Keane.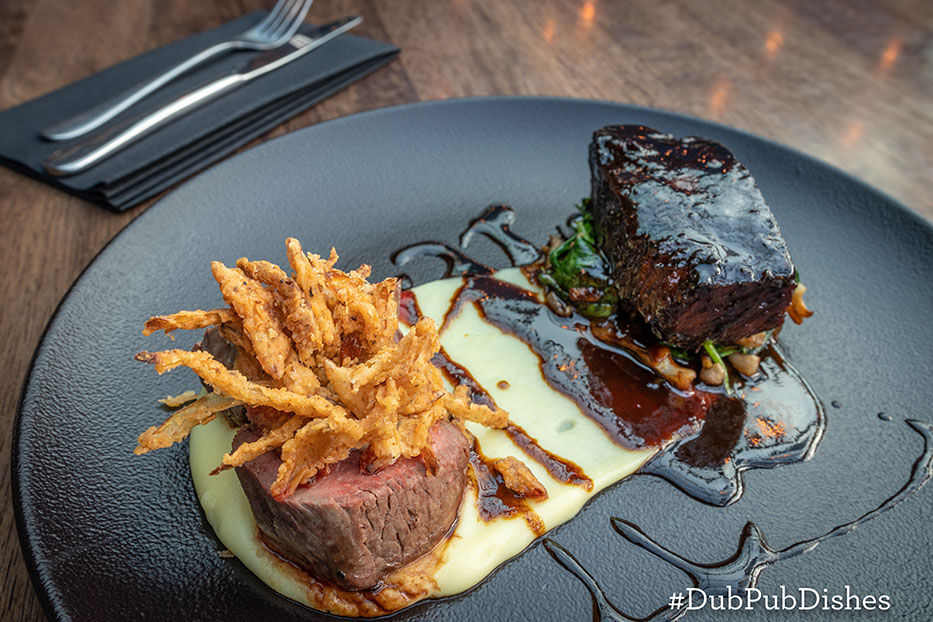 About Urban Brewing
Urban Brewing was established in 2017 by Carlow Brewing Co., one of the pioneers of Irish craft brewing and one of the largest craft breweries in Ireland. Our aim is to offer an unmatched dining, drinking and brewing experience, offering great quality products and excellent service in a unique environment.
Located in the heart of the Dublin Docklands, tucked away in the 200-year-old vaulted chq building, formerly known as 'Stack A', Urban Brewing offers a multitude of experiences; a fully-functional microbrewery, two bars, a sunny terrace and a 300-seater restaurant, Stack A Restaurant, located deep within the building's underground vaults.