The Licensed Vintners Association (LVA) has raised €25,000 on behalf of the 'Jump for James's' fundraiser.  The charity event saw ten different members of the LVA Council abseil down the nine storey extension of the Red Cow Moran Hotel, including Chairman Ronan Lynch, Vice Chairman Noel Anderson and Chief Executive Donall O'Keeffe.
The fundraiser was the initiative of Tom Moran of the Red Cow Moran Hotel and his family. Marking the third anniversary of Tom's near fatal brain injury and remarkable recovery, Tom was one of the 130 people who were involved in the highest abseil from a building in Ireland, dropping a height of 35 metres. The funds raised will go towards building a dedicated Brain Disease Resource and Research Centre at St. James's Hospital.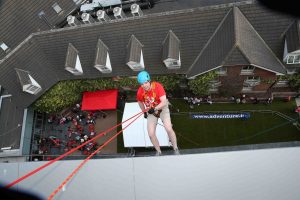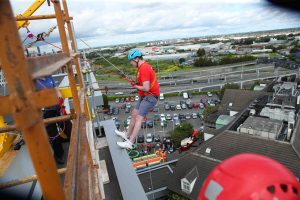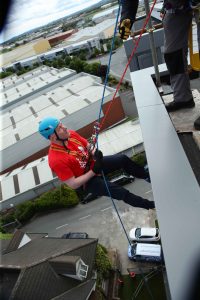 Three years ago Tom suffered a near fatal brain injury, sustaining a stroke which caused him to fall while on holiday in Spain.  Tom underwent a craniotomy and spent six weeks in an induced coma in Spain, before being airlifted to St. James's Hospital, where he was treated by Neurology Consultant, Dr. Colin Doherty.  The outlook was initially very bleak and Tom was not expected to survive. His family was told that if he did pull through there was every possibility he would be brain damaged, blind and paralysed, requiring life-long care.
However Tom has defied the odds making an incredible recovery and was able to join Dr. Doherty, the LVA team and a number of celebrities at the event, including country singer and Dancing with the Stars finalist, Cliona Hagan; Fair City actor, Dave O'Sullivan; broadcaster Ray D'Arcy; comedian, Eric Lalor and former professional boxer, Bernard Dunne.
Speaking after the abseil, Tom Moran said, "I was nervous and excited about this challenge but I am so glad I did it! It has been a fantastic day. It would not have been possible without all the help and support of my family and friends over the last three years, as well as the incredible care and attention given by Dr. Doherty and the neurology team at St James's Hospital. I was determined to give back to the hospital that helped me and to help others. I am overwhelmed by all the generosity and support from everyone to make this happen."
The LVA Council abseil team was made up of:
Ronan Lynch, The Swan
Noel Anderson, The Bridge
Deirdre & Brian Devitt, Two Sisters
Tom McKeon, Eccles Townhouse
John Gleeson, Gleesons of Booterstown
Nathy & Anna Towey, Darkey Kellys
Karen Moran, The Red Cow
Donall O'Keeffe, LVA Chief Executive
The LVA would like to extend their thanks to all those who have contributed to their fundraising efforts. If anyone would still like to donate can do so by clicking here>>>
#Jump4James