The quality of food ava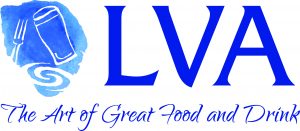 ilable in Dublin pubs has increased dramatically over recent years. Some of the dishes provided in Dublin pubs are now amongst the highest calibre of food in the city. Over the coming weeks on TheTaste.ie, the Licensed Vintners Association (LVA) will be sharing some of these recipes from Dublin pubs highlighting a selection of the top quality dishes you can find in pubs throughout the city and county.  #DubPubDishes
Serving size: 2 people
Ingredients
2 Sea Bass Fillets (250g each)
200g Irish Baby Potatoes
120g Green Beans
100g Cherry Tomatoes
50 ml Olive Oil
10g Fresh Dill
10g Fresh Chives
1 Lemon
1 Lime
To make accompanying Cheese Sauce:
100g Mature White Cheddar Cheese
100g Fresh Cauliflower
100ml Fresh Cream
50g Butter
Pinch of Sea Salt
Pinch of Black pepper
Cooking Method
Take your sea bass fillets, cut them in half and sear the skin.
Marinate the sea bass fillets for 10 minutes with sea salt seasoning, lemon and lime juice.
Boil up your vegetables – baby boiled potatoes for 15 minutes in 1ltr of water with a pinch of salt and small bit of oil, and green beans in a separate pot for 5 minutes.
Prepare the cheese sauce.

Take a saucepan and add butter and melt.
Add your cauliflower and fresh cream.
Let it boil slowly over a low heat. Add salt and pepper seasoning.
Add in your cheese.
Heat for 5 minutes, stirring constantly until you have a nice creamy smooth cheese sauce.

Take a large pan and add butter and melt.
Cook your sea bass fillets in the butter over a medium heat – three minutes each side. You want to have the fillets crispy on each side, and nice and juicy inside.
In a second frying pan, add some olive oil and heat up the pan until it is nice and hot. Add in your baby boiled potatoes (sliced in half), your green beans and your cherry tomatoes (again sliced in half). Add lemon and lime juice and seasoning. Sauté all together for about three or four minutes.
Plating
Place your cheese sauce first on your plate.
Next place your sautéed vegetables on top.
Lastly place your sea bass fillet on top.
Garnish your dish with a lemon wedge, a pinch of chopped chives, and a leaf of fresh dill.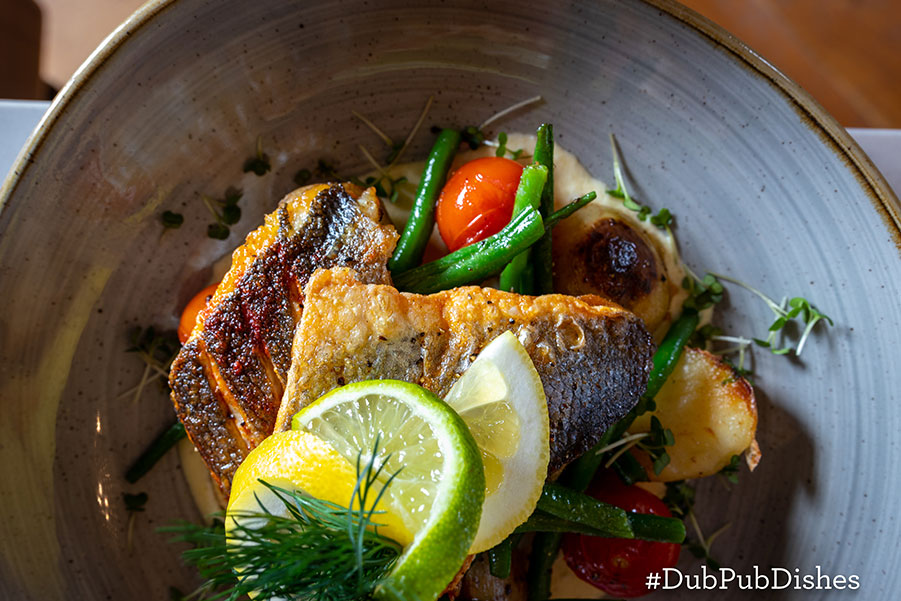 About Kealy's of Cloghran
Kealy's prides itself on being a family run establishment. Derry has been proprietor of Kealy's since the late 1970s, having taken over from his late father Joe. Within Kealy's Derry has adapted the pub to the market demands over the past 50 years, making Kealy's the popular landmark pub it is today. Derry has a wicked sense of humour and people drop in daily to meet Derry and the fantastic team in Kealy's for their great customer service and good humour.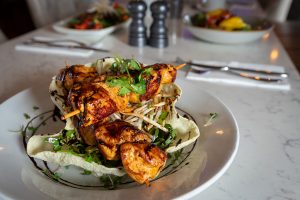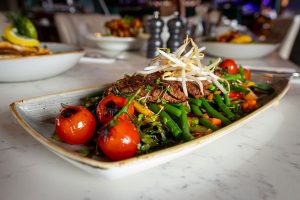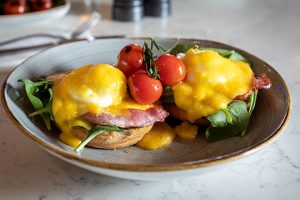 This recipe has been republished from TheTaste.ie. To view the original piece click here>>>