The quality of food ava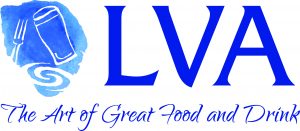 ilable in Dublin pubs has increased dramatically over recent years. Some of the dishes provided in Dublin pubs are now amongst the highest calibre of food in the city. Over the coming weeks the Licensed Vintners Association (LVA) will be sharing some of these recipes from Dublin pubs highlighting a selection of the top quality dishes you can find in pubs throughout the city and county.  #DubPubDishes
About the dish:
Smoked Salmon Bruschetta on house baked sourdough bread with heirloom tomatoes, banana shallot and chervil salsa. Finished with lemon crème fraiche and herb dressing. A wonderfully light and fresh dish with a slight smokiness great to start any summer day on the harbour in Skerries.
Serving size: 2 people
Ingredients
120g High quality smoked salmon
60g Tomato and chervil salsa
2 Tbsp lemon crème fraiche
2 slices fresh baked sourdough bread
1 Whole Lemon
2 Garlic cloves
3 Heirloom Tomatoes
1 Banana shallot
Extra virgin olive oil
Fresh baked sourdough bread
Sea salt & Freshly cracked black pepper
Fresh herbs including, coriander, chervil, basil and spinach
Cooking Method
Quarter and deseed the tomatoes and small dice roughly into 5mm cubes. Small Dice shallot, mince the garlic and chop chervil and basil. Then mix all together with lemon, oil, salt and pepper.
Heat 1 cup of oil in a small pot over medium heat for about 5 min, or until it just begins to smoke.
Fill a blender with half fresh basil and half spinach and (with extreme caution) pour the hot oil over these herbs, cover and blend on high for 5 min. Afterwards pour your mix through a very fine mesh strainer reserving the oil that comes out. This is your herb dressing.
Brush sliced bread with oil and heat a non-stick pan to medium high heat. Toast the bread in the pan till golden brown or more/less if desired.
Mix 4 tbsp crème fraiche with the juice of a ¼ lemon and a touch of salt and pepper.
At an angle cut the 2 pieces of bread in half and spread a thin layer of your crème fraiche mix onto half of each piece of bread.
Lay the piece of bread down that has been topped with crème fraiche and put 1 or 2 spoons of heirloom tomato salsa on top of it. Top this salsa with rolled up smoked salmon, one to two slices should do it or your can add more if desired.
Spoon on your crème fraiche on top of smoked salmon and salsa and garnish with chervil leaf and herb dressing.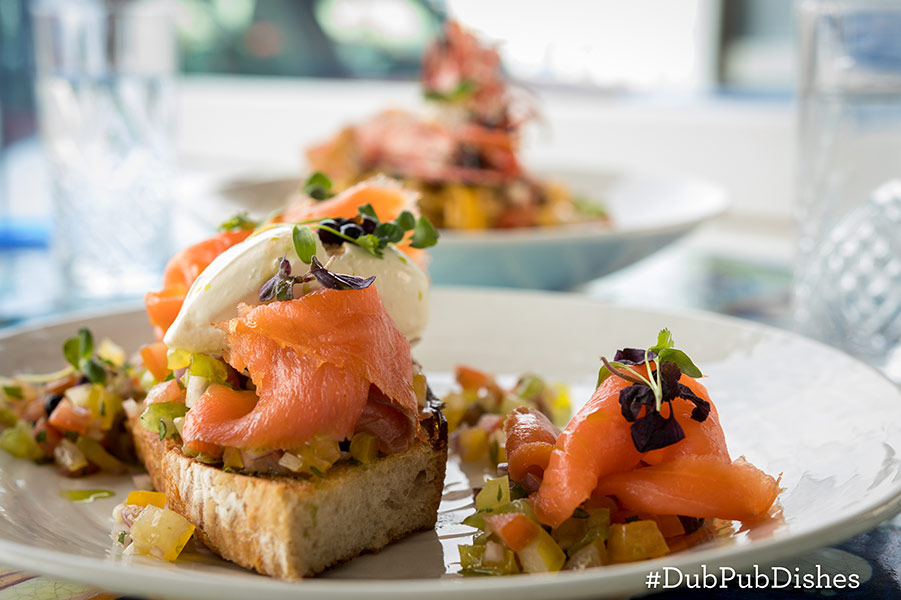 About The Blue Bar, Skerries
Blue Bar in Skerries serves the freshest local seafood possible coupled with a simplistic approach that lets the dishes speak for themselves. Accompanied with great views of the harbour we provide the perfect dining experience for our guests.
Blue Bar opened in 2006, John Nealon has over 40 years experience in the bar industry. He started with his father in The Coast Inn and then moved on to Jack Nealon's on Capel street. John opened another bar restaurant also in Skerries called 5Rock in 2016 and Goat in the Boat a homewares & coffee shop also that year. Blue Bar is located on the only west facing harbour on the east coast of Ireland. It is famous for their Buffalo wings and have won numerous awards for them.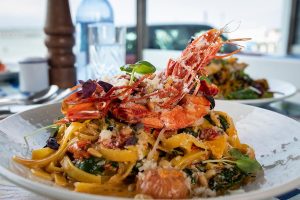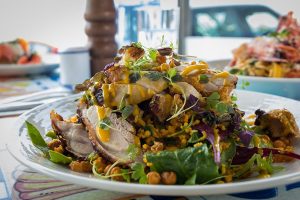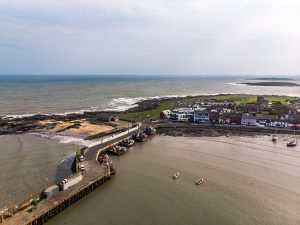 This recipe has been republished from TheTaste.ie. To view the original piece click here>>>